How have you seen God at work today?
A student at PLU says:
This week I have seen God's work every day. I know a lot of people who studied away and abroad last semester who are just now coming back to campus to start January classes. I have witnessed so many emotional and excited reunions where people go running into each other's arms, squealing about how much they've missed each other and how good it is to see each other. I have even been one of those people! It makes me so grateful to be at a school where people love each other so much and have such a tight, caring connection. Every time I witness or am part of one of those reunions, I see God's love poured out to and through these Lutes and it makes me so happy.
Emily writes: This morning I had to get up for church earlier than normal because my cousins were sleeping in our living room so Dad (*ahem* Pr. Kent) and I were going to eat out for breakfast so we wouldn't wake them. I don't think I've been up that early at all this summer, so I was seriously sleepy when we got to Starbucks. Once we got there, however, I saw God in those baristas who made my Americano on the double and didn't try to talk to me before I had coffee in hand.
Evidently I was not the only one experiencing God through those baristas because take a look at the Narthex rubbish bin: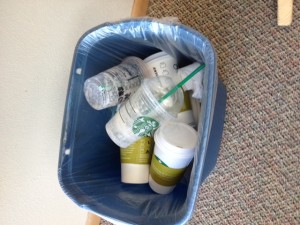 Paul writes:  I saw God tonight. Actually I heard the angels singing praises to God. The Splash group went out Christmas caroling tonight, and as we walked through the hallways of Martha and Mary I saw God in the faces of the young and old alike as we sang about the coming of the Christ child. As we stood on the porch of a dear friend fighting cancer I heard the sweet sound of angels singing glory to God. The evening filled my heart with joy and my eyes with tears. Thanks be to God.
Hannah saw God  today.  She and some friends thought they might be able to collect some blankets and other things to offer to people who are homeless in Seattle.  She mentioned it yesterday in passing, wondering how they might be able to raise money to buy things or how they might collect things.  She has been overwhelmed today with people wanting to support her and help with this project.  God is at work!!
Check this out.  Thanks to Timothy Siburg for finding this one.  Keeping an eye on PNW news all the way from Minnesota!
I saw God at the ferry terminal.  There were 20 or so people waiting to walk on the ferry, including a twenty-something woman who walked with a cane.  She and her friend were sitting on the one bench on the gangway.  When the ferry arrived, a middle-aged man and his elderly mother got off the ferry.  He was anxious.  We could see it in his body language and even in his speech.  He was most anxious about his mother's comfort as she made the long, uphill trek up the gangway. He spun a little bit in indecision and finally told his mother, "Wait here.  I'll go get the chair." Without hesitation and without prompting, the woman with the cane lifted herself off the bench and offered her seat to the woman, leaning on her cane as we waited for the all clear to board the ferry.
God at work.
If you saw God at work today, please send me an email describing what you experienced.  pralison@pflc.org  And by all means, share it with your friends!